"Employees who believe that management is concerned about them as a whole person - not just as an employee - are more productive, more satisfied and more fulfilled.  Satisfied employees mean satisfied customers which leads to profitability"
This puts in simple terms the importance of bringing together the physical, cognitive and social aspects of office design and makes a powerful case for ensuring that wellness is high on the list of priorities when we think about office design.  Successfully executed, CEO's can look for excellent returns for their organisations.
The factors driving the wellness agenda are generally well-known as employees live longer, are less healthy, more inter-connected and struggling to strike the right work/home balance.  On top of this, key skills are in high demand.
So how do we align wellbeing and the workplace?
To start with, it is a strategy and it requires a multi-faceted approach, but since the physical aspect of wellness is so important, workplace designers have a big role to play in getting it right.  In the short term there are things that organisations can do with desk positioning and breakout accessibility but in the longer term we need to think more holistically and we need to both plan it and measure it.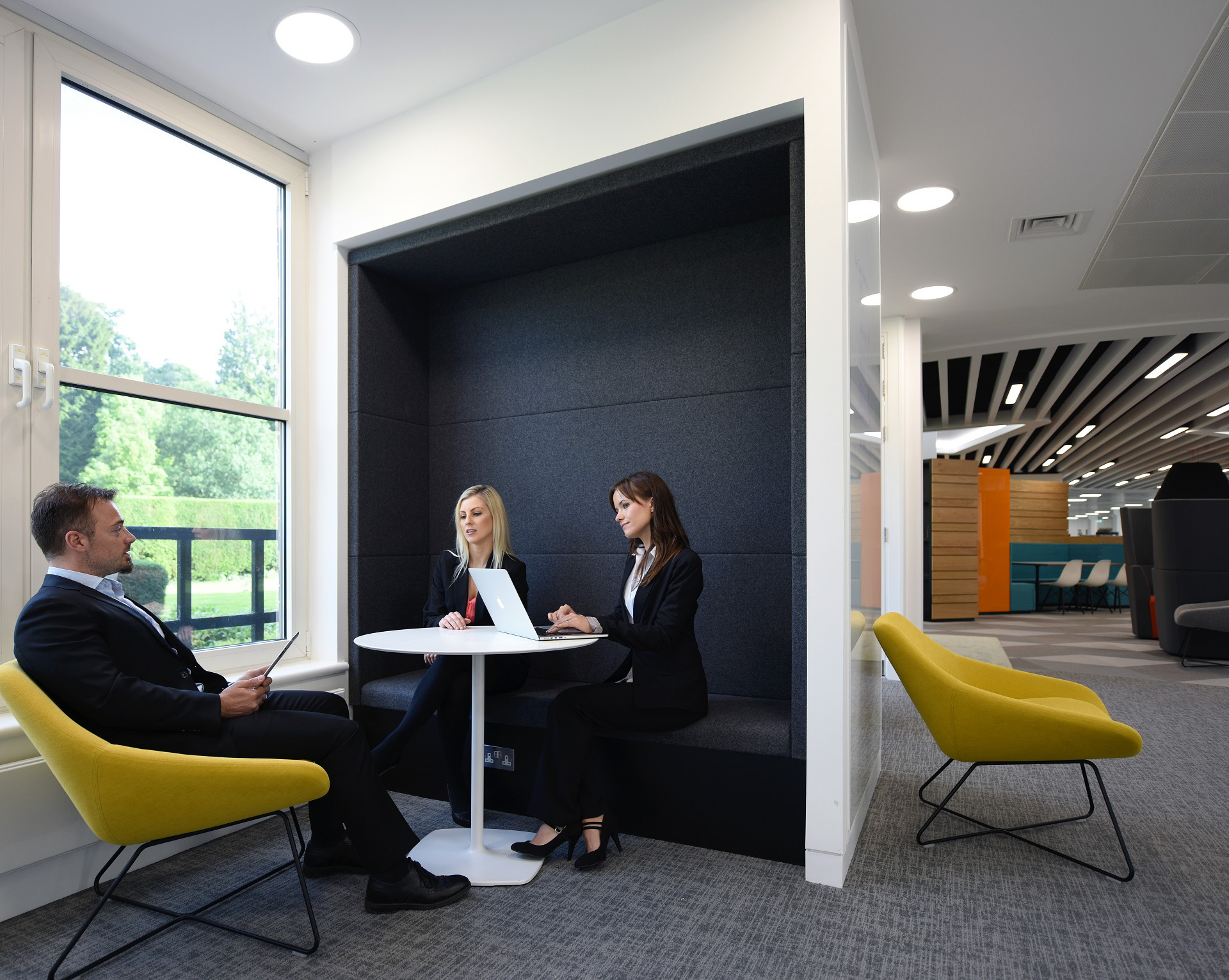 Adopt sustainability
Sustainable office design has long been one of our core principles and we have worked with a broad range of organisations and stakeholders to elevate the importance of minimising the negative impact the built environment has on the planet.  Taking this to the next level and investing in improving air quality, increasing natural light and introducing natural elements has demonstrable benefits in keeping occupants happier and healthier and positively impacts the bottom line.
Empower staff through freedom of choice
Enabling staff choice over their location of work, access to natural light, control of ambient noise and choice of desk height and sitting posture can make a big positive impact for organisations.  Our work with clients such as Unum and Whistl demonstrates that giving people choice and promoting freedom to benefit from those choices delivers measurable benefits in employee wellbeing and engagement at work.
Promoting Social
Full time employees spend a majority of their time at the office which is one of the reasons why promoting social interaction is so important for employees happiness and general wellbeing.  Movement is motivation and from an office design perspective, developing matrix's which promote movement around space, using alternative spaces as social spots and encouraging social interaction between departments and organisational layers will remove many of the barriers to psychological wellbeing.
Build agility, motivation and confidence
Confidence and motivation are feelings of wellbeing that are directly influenced by the things that surround a person.  Building confidence can be strengthened by the workplace environment and interactions which occur in the workplace.  From a design perspective, building cohesive and adaptive working environments empowers and energises people and enables them to be their best at work.