The Challenge
The evidence suggests that engaged employees are more resilient, more productive and take less sick leave than their disengaged colleagues, but many CEOs and business leaders find improving workforce engagement is a particularly persistent problem which they need help to fix.
NHQ and staff engagement
We create workspaces which motivate and engage the workforce – spaces which promote individuals and teams to be more agile, creative, enthusiastic and productive and which enable organisations to develop better culture and a clear competitive advantage.
By understanding the science behind workplace design there is much that can be done to create 'the resilient workplace' and make a positive impact on the way staff engage at work.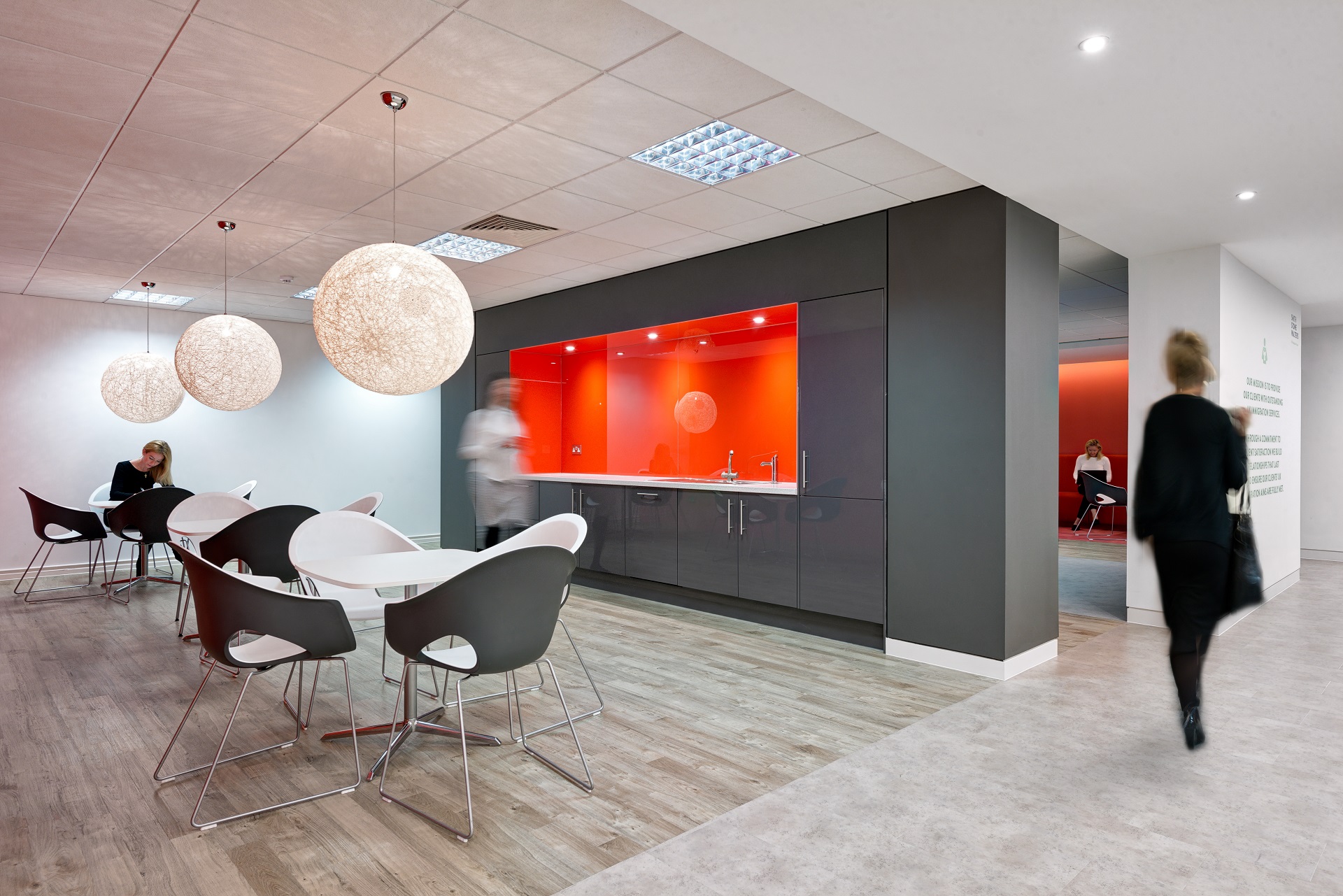 Promote the collaborative workspace
Great organisations have a collaborative culture and great workplace design will foster this culture by providing for a wide variety of collaborative workstyles – whether that be touch-down areas for ad-hoc project work, or stand-up zones where colleagues can move around and share ideas and digital content on integrated smart screens.
Great workplace design will encourage those different interactions by creating a variety of working environments which will motivate staff to discuss their ideas, co-create and engage in idea-sharing processes which make organisations more agile, more innovative and more productive.
Give staff space where they can focus
In balance with promoting collaboration, properly engaged staff will have access to space where they can easily concentrate and get away from sources of auditory or visual distraction.  It's evident that staff can feel overwhelmed with constant on-line connectivity and the flow of information it creates and creating workspace where staff can disconnect, think hard and solve problems is an important element in engaging staff at work.
Distractions at work aren't going to go away, but providing concentration zones with reduced lines of sight, integrating quiet booths and de-cluttering the workspace will give staff the environmental elements they need to re-charge and enable staff to perform better over a longer period.
Give staff choice and control
Giving staff autonomy and the ability to control when and how they work not only drives happiness at work but is also an important element in improving staff engagement and performance at work.
From a workplace design perspective that means integrating a spectrum of different workstyles, from social spaces to concentration zones, as well as furniture solutions which allow staff to choose, for example, standing versus sitting or lounge-style seating as opposed to a conventionally desked environment.
It's also increasingly recognised that giving staff control over their ambient conditions is important in engaging staff at work – especially allowing staff to control the temperature and noise of where they work through the installation of integrated temperature controls at workstations and ensuring that staff can access silence when they need it as well as areas which provide energy and acoustical support for discussion and open interaction.
Promote informal connections through social space
Staff aren't going to engage at work if they feel lonely or isolated – they need spaces where they can connect informally with colleagues and have the opportunity to work and interact in an open and informal way.
The campus-style work environment, where eating and socialising is more seamlessly integrated with core work zones, will encourage to staff to interact and bond with colleagues and other teams and develop the emotional connections which are a key ingredient of engagement at work.
 Promote your brand and give employees space to develop themselves
Developing a culture of trust where staff feel that their contributions to the team and the organisation are important and where they feel they can express their ideas and be heard by senior management will all help with improving staff engagement.  Workspace design will play an important role in promoting the organisational values, sending a clear brand message as well as ensuring that the right behaviours are promoted.
People, and the millennial workforce in particular, want more than just a job – they want a career, with 69% citing a clear path for progression in the business as the most important factor in keeping them engaged.  Designing space which enables younger staff to connect easily with senior leadership will not only promote transparency and accountability across the organisation but will give millennials opportunity to network with senior colleagues and develop themselves and their career paths.