Demand for office space in London remains strong and a recent report from Knight Frank highlights the 'extraordinary demand from the TMT and biotech sectors'.
Understanding how these organisations function and what they need to do to maintain a competitive advantage is key to understanding their workplace design strategy.  Four key drivers we are highlighting are:
Talent
The competition is fierce for high-level technical talent.  Demand for developers and data analysts is high on the agenda of many organisations outside the TMT sector which is creating a shortage of supply within the sector.  In particular, the demand for millennials and younger generation coders who are proficient in different programming languages is causing many TMT and Biotech companies to give special attention to the needs of this cohort.
Disruption  
New TMT companies can scale rapidly and distribute new products to the market easily making it more difficult for existing players to retain market position without the ability to develop quickly and flex easily. 
City-centricity
The demand for a deep talent pool of highly skilled workers together with the vibrant ecosystem which surrounds this high-growth sector is driving many TMT business back to the city-centres or, at least, close to the university campus.  The city centre is also proving the most conducive location for testing applications of many of the new technologies.
Transformation
Shortened product lifecycles means that there is increasing pressure on TMT and Biotech organisations to develop new products and bring to market quickly.  This means these companies need to be able to change the size, shape and even the location of project teams quickly and easily.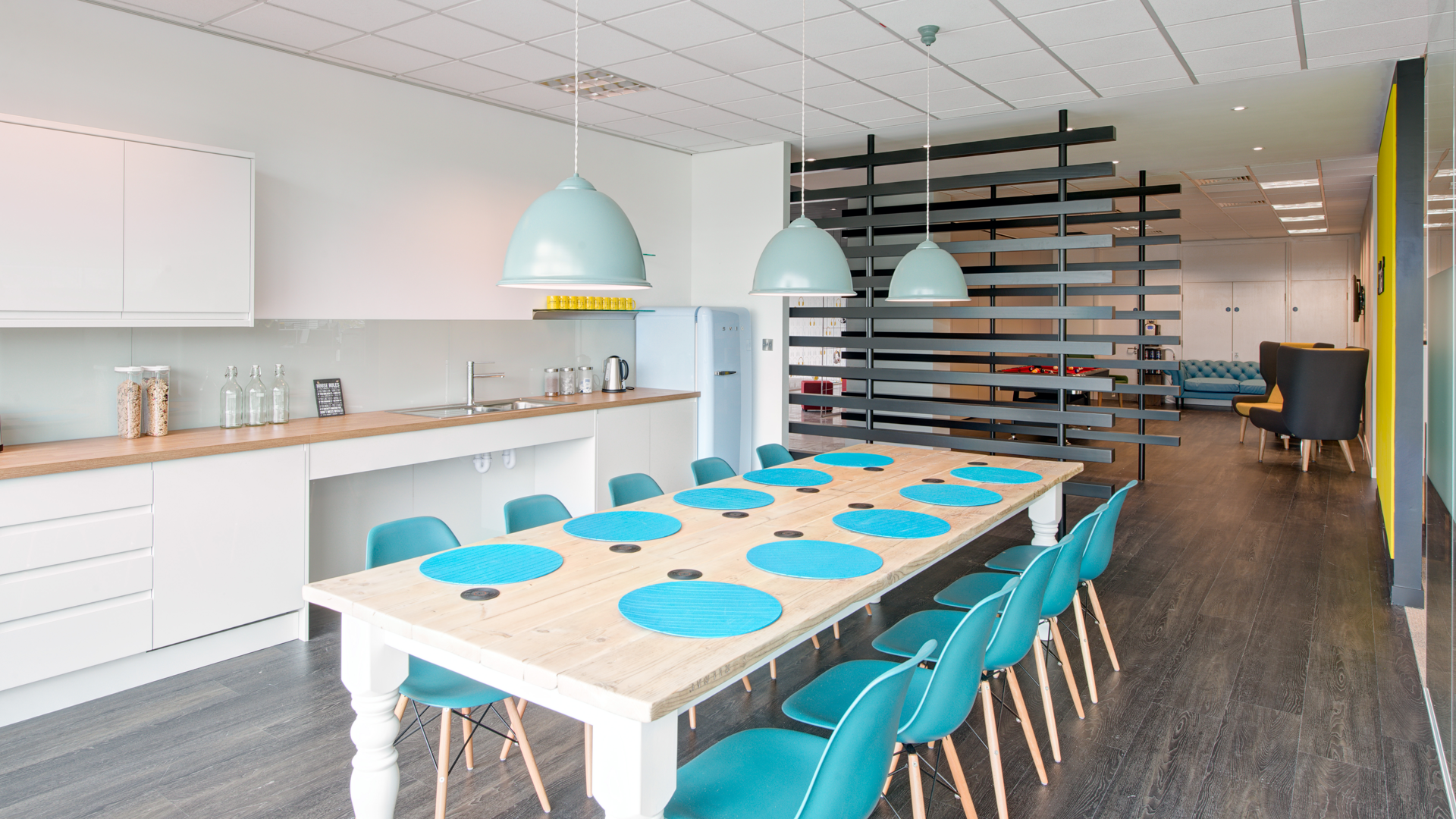 So what does this mean for the design of the TMT and Biotech workplace?
TMT and Biotech companies need to think carefully about how they can create workplaces which will enable them to sustain their competitive advantage.
Flexibility
With technology changing rapidly, and the impact that this is having on the workplace, the ability for companies to accurately forecast workplace requirements over the medium to long-term has become more difficult.  Overall this means that the ability for companies to incorporate agility and flexibility into their workplace design is more important than ever. The difficulty in forecasting has also increased the need for companies to scenario plan more comprehensively around their workplace requirements to ensure that an increased diversity of scenarios are modelled into design planning. Ultimately these companies need to be able to scale or re-shape easily and quickly within their overall space footprint.
Not just an office
With technological development critical to this sector, the workplace must function as a hub of innovation and idea-sharing and the design of space must actively promote this.  The Innovation Lab or Incubator is at the heart of the office where staff can take time-out from their usual 'place-of-work' to innovate and experiment.  Planning matrix's and workflows must facilitate the sharing of ideas and the free-flow of knowledge between departments and individuals.
Location is everything
With city centres and university hubs becoming the main centre of growth for TMT and biotech companies, many leading firms are creating city-centre campus's where the built environment supports a highly intelligent approach to design and facilitates the technological infrastructure for a range of knowledge-based work-types.  From a workplace design perspective this means creating spaces which complement the campus-style work environment.
Inclusivity
Winning the war for talent is crucial to this sector with companies needing to invest carefully in the kind of workplace ecosystem they create, the amenities the offer and a look-and-feel that speaks clearly of their individuality.  With a shrinking talent pool, many TMT and Biotech companies are thinking about how they can attract talent from a more diverse background and how workplace design can accommodate and attract flexi-workers, new participants in the industry and overseas talent.